Ten years ago, if you looked to the future of hospitality technology, you probably would have never guessed that Wi-Fi would be at the core of guest engagement. As guest experiences rely more on mobile, hotel brands can leverage Wi-Fi authentication to identify loyal guests and reward them with a homelike experience that lets them create the personalized stay they they truly want. From streaming their own content to the in-room TV to controlling the room temperature and lighting to receiving location-based offers around the hotel, the Internet of Things (IoT) will be in full swing in 2017. Your Wi-Fi network is mission critical to enabling these connected experiences and building brand loyalty.
1. Guests expect a homelike Wi-Fi experience
Today's traveler wants a familiar, homelike Wi-Fi experience when they check into your hotel. They want to authenticate once and connect automatically every time without going through log-in pages. They want a connection that is actually secure. And they want to stream their own content direct to the in-room TV, share photos with their kids, even browse the Internet poolside–all from a secure, private network that only they can see.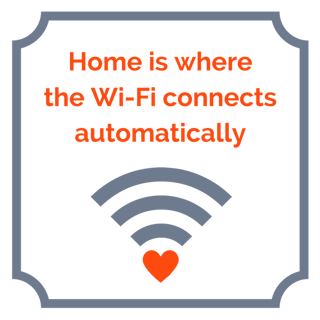 There are two primary ways to address guest demand for seamless, automatic connection to hotel Wi-Fi: MAC address authentication and Passpoint. For more details on automatic authentication, check out our blog post: Automatic Authentication, Explained.
2. Bring-your-own-network (BYON) arrives
BYOD (device) + BYOC (content) = BYON (network)
What travelers want today is a truly personalized guest experience. They may bypass the front desk and check-in via their smartphone. They prefer to stream their own content from entertainment apps like Netflix or Hulu to the big screen TV and not be limited to the day's pay per view options. They want to let their kids share photos or play interactive games without having to log in across each of their devices.
3. Truly smart hotels emerge with IoT
Over the last year or so, we have seen the bring-your-own-device (BYOD) trend evolve to a bring-your-own-content (BYOC) trend. Content streaming is is seen as a bare minimum Wi-Fi requirement for millennial travelers, for example, with 85% of guests thinking hotels should support multiple devices and streaming. To deliver content streaming, hotels can set up dynamic VLANs to create personal area networks (PAN) in each hotel room. With a PAN, guests can easily and securely connect their personal devices with the in-room devices, including the TV, printer, sound system, window blinds and thermostat. The PAN creates a homelike Wi-Fi environment, so that guests can stream music and movies, control basic room settings (lights, temperature) as well as connect to other family devices for content sharing from anywhere in the hotel. Effectively, this technology turns the hotel room into a living room. At the end of a guest stay, the PAN credentials are erased to enable the next guest that same secure experience.
4. Actionable data drives guest engagement
According to Zebra Technologies' Hospitality Vision Study, nearly half of hotels surveyed are looking for ways to turn guest data into enhanced in-stay experiences, retention, and profit. Hotel brands have access to an abundance of data about their guests, but it really becomes actionable when we connect it all to better understand and serve guests.
That's where Wi-Fi authentication comes in. When a guest logs into the Wi-Fi using their credentials, hotel brands can learn about what device is on the network, and more importantly, who is on the network. When integrated with other guest systems, like PMS, CRM/Loyalty, and Social log-in, we can identify loyalty members and begin to build rich guest profiles that enables better, more personalized engagement of loyal guests.
5. Location analytics reshape the guest journey
We believe 2017 will be the year we see more hotel brands actually using location analytics to guide the guest journey. In fact, 74% of hotels are planning to implement location-based technology with in the next year, says Skift.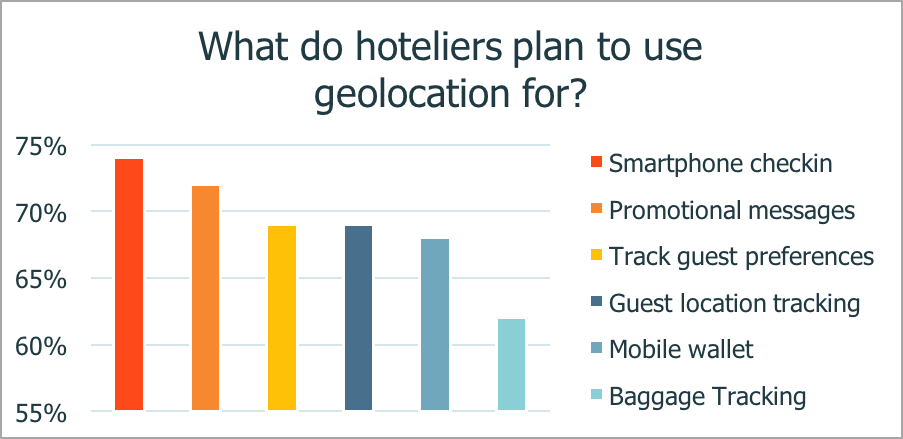 Data from Zebra Technologies' Hospitality Vision Study
Wi-Fi authentication provides the simplest form of location data because we can tell who has arrived at the property. This information can trigger an alert to the front desk staff that a VIP has arrived or be sent to the mobile app server to push relevant messages to the guest.
6. Brands take control of the Wi-Fi experience
Historically, hotel networks have been managed at the individual property level. For guests, this means Wi-Fi network names are not uniform, and it is hard to figure out which one to connect to. Captive portals and log-in processes vary. Worse yet, Wi-Fi performance may vary widely from property to property. Today, hotel guests expect a familiar login experience and predictable, high performance Wi-Fi at every hotel they visit within your brand.
The challenge for hotel brands is to create a consistent experience across all of their properties despite the disparate hardware, software and network integrators used at each location. With the emergence of the Internet of Things (IoT) and hotel staff going mobile, even more devices will being added to the already complex network. Wi-Fi is far too important a guest amenity to manage in such a decentralized way. That's why hotel brands must take control of the Wi-Fi experience, and that starts with central management of Wi-Fi across all properties. With the need for device management across the enterprise, a centralized guest Wi-Fi management platform becomes a must-have to ensure a truly gratifying experience for guests.
7. Wi-Fi can be monetized (even when it's free)
Free Wi-Fi is still the #1 most desired amenity and today guests are beginning to understand the value of higher levels of Wi-Fi performance. Some guests only want to check email or surf the web while others want to share large files, conduct video conferences or play interactive games. Wi-Fi is so important that in a recent eWeek survey, half of millennials said they would pay 5% of their annual salary for super-fast Wi-Fi. Hotels can offer tiered Internet plans that add value at each level to drive revenue and offset infrastructure costs. In fact, there are a few ways you can monetize Wi-Fi, both directly and indirectly:
Flexible Wi-Fi plans: allow guests to choose and pay just for the plan they need (speed, devices, etc.)
Third party advertising: add value to your captive portal with links to local area amenities, like dry cleaners or brunch spots
Conference Wi-Fi: if you have conference space, make sure you take advantage of a tool that allows you to manage and monetize the group Wi-Fi
Roaming: with Passpoint technology, hoteliers can more easily monetize cell traffic onto their networks
The changing future of Wi-Fi is not slowing down as hotels and guests use more applications that depend on a reliable connection to the network. It's important to lay the groundwork to handle advances in Wi-Fi technology. That's where guest Wi-Fi management comes in. The ElevenOS central guest Wi-Fi platform serves as middleware between the Wi-Fi network and other guest systems to deliver a great Wi-Fi experience regardless of disparate hardware, software, and service providers.