In Part I & Part II of The Perfect Bandwidth Storm series we explored the ways guests are consuming technology and how hoteliers are serving it up. The rise in mobile devices alone has created bandwidth shortages; couple that with cloud computing and you've got "the perfect storm" for bandwidth consumption. And it doesn't stop there.
Business travellers still need to get work done. Guests still need to print boarding passes. Guest computers are still every bit a valuable amenity and guess what, they require bandwidth too. It's all about the capability to measure and manage these features as our world around us becomes more heavily integrated with technology.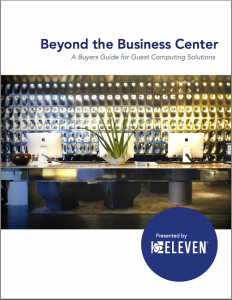 Our Guest Computing Buyer's Guide covers everything we've learned in our 10 (and counting) years in the business:
Factors you should consider when choosing a guest computing solution
Examples of what the major brands are doing with guest computing
What the future holds in terms of guest computing
The future of hotel technology inevitably increases the need for more bandwidth. Ultimately, the guest experience should be driving any updates you make. Before making any changes, ask yourself, how will this enhance the guest experience at my hotel?
Be prepared with The Guest Computing Buyer's Guide.
Learn more about the future of hotel technology and guest computing:
The Future of Hotel Technology | Part V: Security
The Future of Hotel Technology | Part IV: Tiered Pricing