We work dramatically different than we did just a few years ago. Instead of desks, we are tethered to smartphones, tablets, and laptops. We communicate more and more via videoconferences, webinars and VoIP phone calls. This shift means the average business traveler has vastly different needs than he did a few years ago and he expects your hotel to meet them.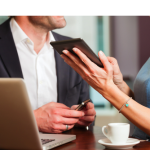 Smart hoteliers are working to keep up with this change by providing open areas for networking, smaller private meetings spaces, and more. The true challenge will be to provide an environment where service and experience capture visitors and turn them into loyal guests.
Providing the right environment for technology will play a large part in a hotel's success and that means making some changes. Properly located plugins and sleek, comfortable furniture will help but arguably the biggest and most expensive change will be providing adequate bandwidth levels. Without increased bandwidth to support this shift in guest behavior, the guest experience will suffer.
Stay tuned for parts 2 and 3 of this 3-part series where we explore two other factors creating The Perfect Bandwidth Storm: hospitality technology and guest computing.
Do you have technology updates budgeted for 2013 that will enhance the guest experience at your hotel?
Related articles:
It's All About Bandwidth, Bandwidth, Bandwidth
The Future of Hotel Technology | Part I: Mobile Apps