People today expect to be connected always and everywhere; sometimes it's hard to believe that there was a world before smartphones and Wi-Fi. In the time since Wi-Fi became ubiquitous in hotels, apartments, and public spaces, it has fueled the evolution of connectivity in a lot of ways. Just like Maslow's hierarchy of needs, the most basic needs start at the bottom, and you can't get to the next level without a strong foundation.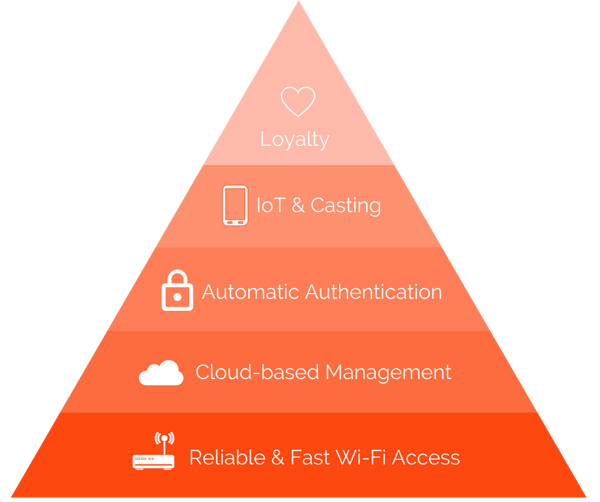 Reliable & fast Wi-Fi access
First and foremost, people expect to be connected always and everywhere—whether they're at home, traveling, or in between. Offering easy and fast guest Wi-Fi is the most basic step towards keeping up with guest needs. Guest Wi-Fi experience is inevitably tied to brand identity and it's important for brands to take control.
Cloud-based management & integrations
A central management platform is the best foundation to enable a consistent and seamless Wi-Fi experience across multiple devices, properties, and providers. Being the #1 most demanded amenity, Wi-Fi has an undeniable effect on brand loyalty. It's too important to be managed disparately from property to property. Cloud-based management gives brands the control they need to ensure a seamless experience always and everywhere.
Auto-authentication via Passpoint™ (a.k.a. Hotspot 2.0)
Not all Wi-Fi management platforms are created equally. The best way to offer the frictionless and consistent experience people want is to offer global lifetime access to Wi-Fi. Today, with Passpoint/Hotspot 2.0, that's possible. Passpoint also enables WPA2™ encrypted access. For the first time, an automatic and secure Wi-Fi experience is possible.
IoT enables smart rooms & content casting
By the year 2020, the number of connected devices is predicted to surpass 30 billion (Statista). With the growth of the Internet of Things (IoT), the connectivity experience will evolve. Today, the most common use case is content casting from personal devices to the in-room TV. Tomorrow, the smart room of the future could include any number of devices designed to enhance the guest experience.
Brand loyalty & personalized experiences
Wi-Fi is a crucial touch point between hoteliers and guests. A central authentication platform allows hoteliers to recognize not just the device that connects to the Wi-Fi, but the person using it. Leveraging Wi-Fi data for even richer guest profiles allows you to deliver a better, more personalized Wi-Fi experience that truly delights guests and drives brand loyalty.