There are two primary ways to address guest demand for seamless, automatic connection to hotel Wi-Fi: Mac re-authentication and Passpoint. In this post we will explain how the technology works and the benefits and challenges of each.
MAC Re-authentication
Guests want a seamless, automatic connection to the hotel network. They want to avoid the hassle of searching for a network or logging on via cumbersome portal pages. What's more, they expect the same level of Wi-Fi performance and security they get at home. Finally, they want to be rewarded for their loyalty with perks like free Wi-Fi and the highest level of performance. Today, hotels can truly offer their loyalty members seamless, automatic connection to the Wi-Fi network without portal pages at any location.
The simplest way to automatically connect guests to the Wi-Fi network is by recognizing the media access control (MAC) address on the guest's device. The MAC address is a unique 12-character identifier assigned to the network adapter located in the guest's device. MAC authentication has been available for many years and simply requires a guest to opt-in once to have to have their device "remembered" by the network for future connections.
Passpoint (a.k.a. Hotspot 2.0)
Wi-Fi Certified Passpoint™ is the brand name for a new standard of public Wi-Fi that enables seamless connection. Passpoint certification is based on the Wi-Fi Alliance Hotspot 2.0 specification (for simplicity's sake, we will refer to the technology just as Passpoint moving forward). Passpoint allows guests to install a profile on their device one time and then the hotel network automatically authenticates them based on the stored credentials. This technology allows guest devices to automatically connect to the hotel's network whenever and wherever they are in range.
Passpoint automates the authentication process by enabling a seamless connection between hotspots and devices, while delivering WPA2™ security. Passpoint also addresses the challenges of decentralized Wi-Fi including inconsistent brand experience and disparate equipment and service providers. Enabling a more cellular-like experience, Passpoint gives way to a modern Wi-Fi experience that delights guests and rewards loyalty members.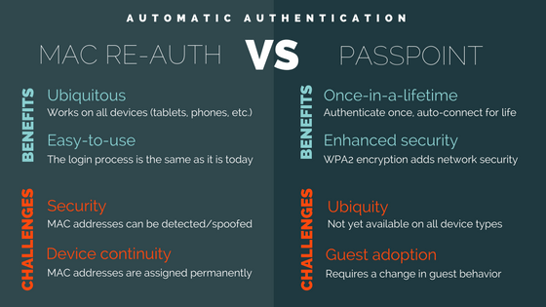 Which one should you use?
As guest preferences vary greatly, it's actually ideal to offer both options. Some guests will have no problem with the Passpoint technology, others may want the simplicity of just checking a box to remember their device. We have seen early adopter hotel brands implement one or both capabilities based on their individual needs and priorities:
Speed to market: while both technologies are available, MAC address authentication is ubiquitous today across any device.
Guest convenience: both capabilities require a simple level of permission from the guest which is incorporated into the first-time log-in process. Passpoint does require a bit more work upfront, but will save time down the road.
Security and privacy: MAC authentication does not address the age old issue of open public networks which do present the risk of being hacked. For the first time, with Passpoint, hotels can truly offer secure, fully-encrypted automatic connection to Wi-Fi at every location.
Our Wi-Fi pros recommend that hotels implement both MAC address authentication and Passpoint to allow for maximum flexibility as the market evolves. Passpoint adoption will truly accelerate with broader adoption by:
Network hardware manufacturers: most are ahead of the curve with Passpoint already built in.
Device manufacturers: the biggest obstacle today is handsets; as manufacturers implement Passpoint in all of their devices, adoption will increase.
Carriers: adoption will require carriers to fully deploy Passpoint on their implementations of devices, including Internet of Things (IoT) devices.