Shaun has been with Eleven for only a year and half and has become an integral part of the team. Stepping up and acting in this leadership role for the past several months; it's no surprise how quickly he was promoted. Recently promoted from Technical Support Specialist we know he will thrive in his new role of Support Team Lead for all ElevenBC products.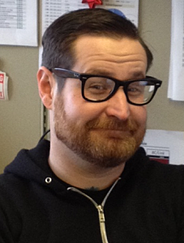 In his relatively short time here Shaun has taken the initiative to become well versed in all of Eleven's products including our guest Internet management software, ElevenOS. He also acts as a back up for our Senior Systems Engineer. It is a pleasure to have him as a member of the Eleven team.
Everyone at Eleven appreciates Shaun's welcoming personality and take-action attitude. He never waits for someone else to follow up; he gets to the base of any issue and has a passion to see projects to completion.
Fave Food: Sandwiches!
Fave Movie: They Live
Fave Band: Boards of Canada
Power Animal: A sheagle: half shark and half eagle.
We will continue to introduce members of the Eleven team throughout the year so you can better get to know the Eleven team.